Wanted to share some treat boxes I made this week for my crafting friends. I seen this idea on-line to make Chocolate survival kits, I just changed it up a little and had a great time making them this week.
The letters were cut out with my Cricut-A Child's Year cartridge, I really love that cartridge.
Some letters were thicker letter stickers I had in my stash.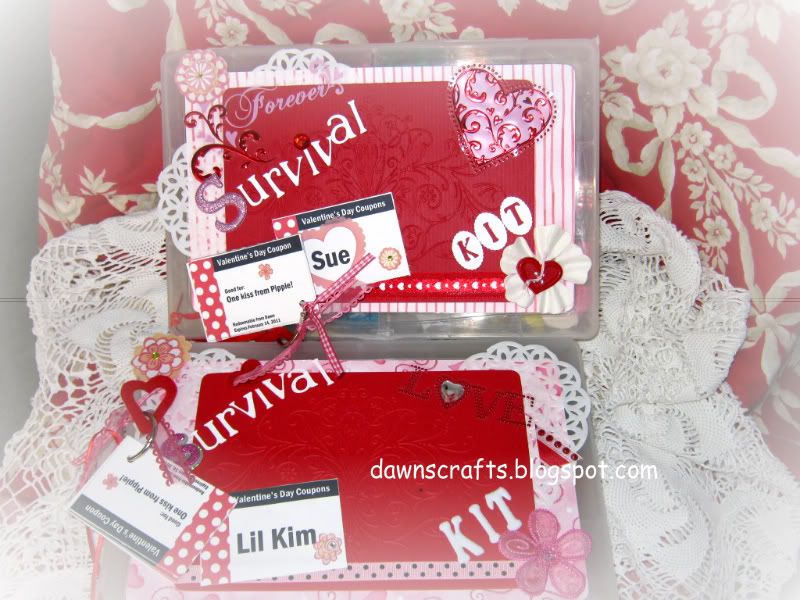 I decided to split the pictures up so you could see all the fun details. There are clips attached with silly coupons for "gifts"...and ribbons and charms. I embossed the cardstock with one of my new folders.
I added in doilies and additional supplies I had plus lots of doo dads from the kit I received from Kathy at
Paper Phenomenon
, did you see the first project I made with my kit yesterday? I still have lots of supplies left to make a book with for myself.
I used bead containers from my local Hobby Lobby to fill with all sorts of candy, not just chocolate but a mixture and whatever chocolate I could customize to each persons taste.
Here is the view of the inside from one of the boxes. I did put a variety in each box to change what the person liked or not. I must admit it was really hard to have enough candy this week to use in each box.
(Stop back tomorrow to see why).
Can you see what the coupon says? Each person got this as the top coupon with a few other fun ideas. Now who wouldn't want a kiss from my good buddy Pippie?