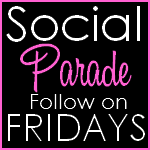 It is follow me Friday again, I am thrilled to welcome new visitors. Would love you to follow me but only if you like what I post, and I will do the same if I enjoy your blog.
Oh I love a cute mouse! I love all those Mouse House images .My friend's all got together the last time to share some of our stamps. I was excited to stamp off a few of these adorable mice and friends.
Now let me say I would not be thrilled to find these mice or any mice in my drink, but isn't it cute?
These card bases were from a kit I had, so the pattern seemed to work with what I wanted. Made these cards for some quick ones to use to send out for no reason at all.
My friend Sue is great about sending cards just to say Hello, so one of these went out to her just for that reason.
I used my trusty Copic markers. Spell binder shapes to layer the image, and there are my quick cards. I also added a little liquid glass to the ice cubes, they needed a little bling!
Hey these would qualify for a clean and simple card I think. What do you think?
Thanks for stopping and hope you come back soon.