***This post will stay on top until June 27th, please check below for new posts***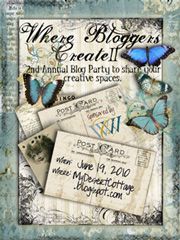 '
Come on along, come on along, this is the best blog hop you will visit where blogger's create. There are over 400 blogs participating this year...Wheww that is an impressive amount.
Wanted to share a few pictures...(haha )of where I create.
Some things are moved around a little, so maybe you will see something new.
My area isn't one of those showrooms, but I enjoy my speace.
The white table area pictures are my main work space. The next picture is another work surface-countertop for additional space to work at.
This is a tall table I have my Cricut machine set up on,I love working at this height. Here is one of my pretty spaces I keep some of my favorite supplies. I also had to show my paper rack that is right next to my main work space.
This is my bins of scrap paper I am always referring to, I also have extra laces and ribbons from my sewing days packed in a couple drawers.
This is the organizer on my desk with my most used supplies, and a picture of my lovely daughter.
How about a picture of my friends from one of our birthday gatherings.
I organized some of my embellishments such as larger stickers and chipboard in the tall stack .
Now I know my room is not "beautiful" like some show rooms others have. But, I enjoy my space and love how I always can change things to work for what I am doing at the time.
Most important is the fact I can have friends over to share my space when ever we want to create together.
Thank you so much for stopping today, I really love to show off my work space,leave your link so I can come and visit your area you create in.
Hope you check out the rest of wonderful participants that are on the hop today, The list of participants are on the right side of her blog-it is an amazing amount of people, I am thrilled to be included..
Thanks for stopping and have a great day.